Knockout anxiety behaviour
Knockout anxiety behaviour
Breakthrough research into nuclear receptors
Nuclear receptors, or steroid hormone receptors, are transcription factors that bind directly to DNA to regulate the expression of target genes. They are essentially involved in all aspects of physiology and disease, including metabolism, development and reproduction. Prof. Jan-Åke Gustafsson, MD, PhD is a leading scientist who has made significant discoveries within the field of steroid hormone receptors and nuclear receptors. In the 1990s, the Gustafsson group at the Karolinska Institutet in Sweden discovered estrogen receptor beta (ERβ) which is crucial for the function of the immune system, lungs and brain. Stimulating the receptor can slow down or stop abnormal cell division that leads to cancerous tumours.
Based on this discovery, treatments have been developed to help battle several diseases, including breast, prostate and lung cancers.
In 2009, Prof. Gustafsson joined the University of Houston as the founding director of the Center for Nuclear Receptors and Cell Signaling, where he continues his research into nuclear receptors and how they regulate health functions within the human body.
Anxiety-like behaviour in mice
In his latest publication in the Molecular Psychiatry journal, Prof. Gustafsson's team, together with collaborators from the Karolinska Institutet and Third Military Medical University in China, investigated the role of liver X receptor beta (LXRβ) using knockout mice generated by Ozgene. LXRβ is expressed in astrocytes, which are crucial for synaptic transmission. The dysfunction of astrocytes can lead to neuropsychiatric disorders such as anxiety and depression. Global LXRβ deficient mice display impaired synaptic formation, but since the group was interested in defining the role of LXRβ specifically in astrocytes, a conditional approach was used to generate mice lacking LXRβ in astrocytes. Adult male mice exhibited anxiety-like behaviours; however, no depressive-like behaviours were observed. Further investigations were undertaken to reproduce the behavioural phenotype by selective deletion of LXRβ in astrocytes in the medial prefrontal cortex (mPFC). The results showed that astrocytic LXRβ in mPFC was crucial for the regulation of synaptic transmission, therefore providing a potential new target for anxiety-like behaviour treatment.
Animal models & more information
For more information on Prof. Gustafsson's research, read the publication below and visit the Gustafsson Lab page. Also, visit Ozgene's mouse model page for more information on our services.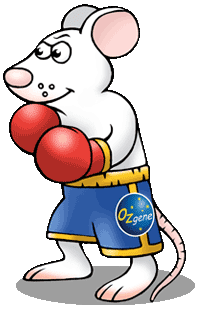 Mol Psychiatry. 2021 May 7. doi:10.1038/s41380-021-01139-5. Online ahead of print.
Loss of liver X receptor β in astrocytes leads to anxiety-like behaviors via regulating synaptic transmission in the medial prefrontal cortex in mice
Xin Li, Hongyu Zhong, Zhongke Wang, Rui Xiao, Per Antonson, Tianyao Liu, Chuan Wu, Jiao Zou, Lian Wang, Ivan Nalvarte, Haiwei Xu, Margaret Warner, Jan-Ake Gustafsson, Xiaotang Fan.
Further research articles by our customers on anxiety disorders and anxiety related mouse models