About us
Ozgene's story
to advance humanity – inspire curiosity
It was not that long ago that a mouse was just a mouse. For the team at Ozgene, a mouse represents a way to advance humanity. Ozgene has become a company dedicated to exactly that, and we do so by inspiring curiosity within ourselves and our customers. Read some of our customer research features showcasing how Ozgene mice are making a difference.
Ozgene was founded in November 1999 in Perth, Australia. Today, Ozgene is one of the leading companies providing genetically customised mice for researchers around the world. In fact, 90% of our customers are located outside of Australia. Another Ozgene laboratory and breeding facility was launched in the USA in 2019. Shipments leave the Ozgene facilities almost daily for their destinations in the USA, Europe, Asia, South America and New Zealand. Ozgene mice can be found in laboratories on almost every continent in small academic institutions and multinational pharmaceutical companies alike. They have been for over 20 years. The experience behind Ozgene doesn't stop there.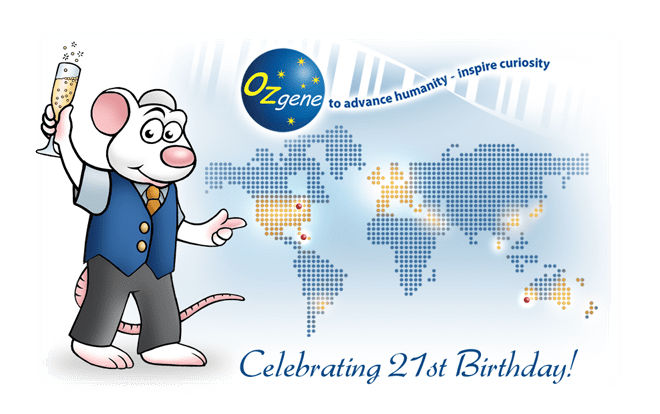 CEO and co-founder, Dr Frank Koentgen, and the Ozgene team have 30 years of experience in the generation of genetically modified mice. It begins even before Ozgene was founded when Dr Koentgen generated the first knockout mouse on the C57BL/6 mouse strain background in 1993. Ozgene has since patented its sequential cloning system and most recently, the goGermline™ technology, which has been a game-changer for gene targeting with numerous animal ethics, efficiency and timeline benefits. During the COVID-19 pandemic, Ozgene has also provided organisational capability support and training to the CTMH Doctors Hospital to set up a COVID-19 testing facility in the Cayman Islands. If you would like to join the Ozgene team, have a peek at our careers page to see where we are currently hiring.
NEWS & BLOG
What's making news?
Stay up to date with the latest Ozgene news, research features, scientific investigations, blog and podcast, all in one place.

A snapshot of animal numbers after 100% digitisation with over 1000 orders placed …
Read more

See you at ANZLAA and the latest on training, technical updates …
Read more
Get in touch
We offer personalised services for your research needs. Request a free quote today.
Please fill out the form and we will respond to your query within two business days. Alternatively, visit our contact page for more ways that you can get in touch with us.