Patents
Patents
We continually have internal projects running through our research & development program, some of which have been successfully patented over the years. These technologies have improved our processes and others' around the world. To make it easy for you to find one of our patents, we have provided them here for you to browse. Stay tuned to this page for exciting R&D updates.
Compositions and methods for producing genetically modified animals
May 14, 2015 – WO 2015066768A1
We are excited to announce Ozgene's newest patent, 'Compositions and methods for producing genetically modified animals', more commonly known as goGermline™. Simply put, goGermline only produces embryonic stem (ES) cell-derived mice by eliminating competition with 'host' embryos. goGermline facilitates streamlined mouse generation, less waste, faster timelines and improved animal welfare standards. For Ozgene, this has been the most influential patent so far and could change how the world creates future genetically modified animal models.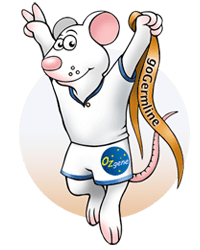 Sequential cloning system
Nov 23, 2006 – WO2006122354A1
Ozgene developed the Sequential cloning system to maximise the efficiency of the cloning process. This has resulted in a reduction in our timeline to construct a targeting vector. In addition, it ensures that all modifications are reliably included and easily confirmed in the final construct. The sequential cloning system enables faster and more accurate construction of your gene-targeting vector.
Methods and compositions for generating a genetically modified animal using lentiviral vectors
Jul 24, 2003 – WO2003059923A2
Lentiviral transgenesis was one of Ozgene's first patents. It was developed to reliably generate transgenics with up to 100% efficiency. It produced a large number of founders with multiple integrations. Lentiviral vectors could also be combined with RNAi technology in gene knockdown projects, overcoming the strain limitations of other technologies. The lentiviral patent is an important part of Ozgene's success; however, it is no longer used as other technologies have advanced in its place.
Get in touch
We offer personalised services for your research needs. Request a free quote today.
Please fill out the form and we will respond to your query within two business days. Alternatively, visit out contact page for more ways that you can get in touch with us.