Breeding & husbandry
Mouse breeding & husbandry
At Ozgene, we believe in providing our customers with a full-circle service. We offer convenient mouse breeding options for your newly generated knockout, knock-in, humanized or targeted transgenic mouse model, or can take over your existing mouse colonies to manage and breed them for you in Australia or the USA.
Our mouse breeding services are customised to your needs and include: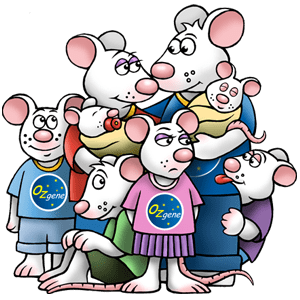 Mouse breeding and Ozgene's approach to animal welfare
Animal research is necessary from an ethical and scientific perspective. At Ozgene, we adhere to rigorous animal welfare standards, with all work conducted in mouse breeding and investigations governed by international, national and local legislative requirements. Our vivariums are Specific Pathogen Free (SPF) and comply with major national and international research institutes, operating in accordance with the following:
Ozgene's Lean/continuous improvement philosophy promotes our constant commitment to upholding the highest ethical standards for the health and care of laboratory mice. All activities associated with the use and care of mice are regularly reviewed by our animal ethics committees. These committees are made up of internal staff, external peers and laypeople, who are able to provide invaluable insight into laboratory animal health and welfare, breeding performance and research. All animal projects pursued use well-established and commonly-used welfare methods to ensure high quality results.
Ozgene strives to produce the minimum number of animals necessary. Each Ozgene facility regularly reviews the internationally recognised 3Rs for animal-based research:
Reduce – producing and using the minimum number of animals necessary.
Refine – minimising distress or discomfort during the live cycle of the mice.
Replace – replacing animal studies with non-animal systems.
Ozgene's proprietary goGermline™ technology has a significant impact on industry 3Rs goals and performance outcomes, with the guarantee that only ES cell-derived animals are produced at chimera breeding. This results in benefits to germline efficiency, project timelines and animal welfare. In 2017, the International Society for Transgenic Technologies (ISTT) selected goGermline as the winner of the ISTT 3Rs prize due to 'the significant impact that the widespread application and use of this transgenic technology provides.'
Employees from within the animal facility, as well as researchers working with laboratory animals, undertake numerous hours of training to ensure that all mouse studies are conducted according to best practice scientific standards. The nature and scope of training are based on national and international requirements. Staff regularly participate in in-house and external continuing education programs. Such programs include accredited courses offered by the American Association for Laboratory Animal Science (AALAS) and the Australian and New Zealand Council for the Care of Animals in Research and Teaching (ANZCCART). Topics of training include, for example, handling pregnant females, breeding mice and offspring health, and mutant strain breeding performance.
Get in touch
We offer personalised services for your research needs. Request a free quote today.
Please fill out the form and we will respond to your query within two business days. Alternatively, visit our contact page for more ways that you can get in touch with us.