What happens when you are one of the 0.0001%?
What happens when you are one of the 0.0001%?
In this issue
Feature
Publications
Frank's blog
Ozgene travel
Geneoz VMS news
More excitement…
---
What happens when you are one of 0.0001%?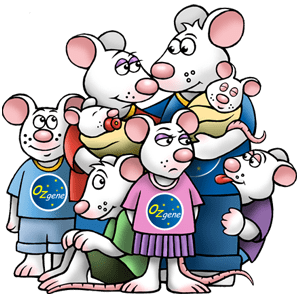 When a disease or disorder only affects between 1 to 3 people per 1,000,000 worldwide, most don't give these low odds a second thought. That is until you, or a family member, become one of the one.
The NBIA Disorders Association was established to fund research and to provide emotional support to families affected by one of these rare disorders. Several disorders fall under the Neurodegeneration with Brain Iron Accumulation (formerly known as Hallervorden-Spatz disease) umbrella. The most common form is Pantothenic Kinase-Associated Neurodegeneration or PKAN. PKAN is caused by mutations in the PANK2 gene. This disorder makes up 35-50 percent of the NBIA population worldwide.
Symptoms of the disorder include problems with gait, speech difficulty, psychiatric symptoms and retinal degeneration. Researchers are currently investigating how this gene mutation results in damage to nerve cells in the brain, as well as the distinctive iron build-up. This is where Dr. Susan Hayflick, an expert in NBIA disorders at the Oregon Health & Science University, comes in.
With NBIA Disorders Association funding, Dr Hayflick has undertaken a research program on gene therapy mouse phenotyping. Ozgene has created this specific mouse model for Dr Hayflick. Hopefully, with everyone working together, individuals and families affected by NBIA disorders can go on to live full and happy lives!
To learn more about NBIA disorders please visit the NBIA Disorders Association website.
To learn more about Ozgene's custom designed knockout, knock-in and transgenic mice, go to Ozgene services.
---
Latest publications
J Clin Invest, 2014 Jul 1.
Netrin-1 controls sympathetic arterial innervation.
Brunet I, Gordon E, Han J, Cristofaro B, Broqueres-You D, Liu C, Bouvrée K, Zhang J, Del Toro R, Mathivet T, Larrivée B, Jagu J, Pibouin-Fragner L, Pardanaud L, Machado MJ, Kennedy TE, Zhuang Z, Simons M, Levy BI, Tessier-Lavigne M, Grenz A, Eltzschig H, Eichmann A. – INSERM, France; Yale University, US; McGill University, Canada; Rockefeller University, US; University of Colorado, US.   [read]
Cell, 2014 Jun 19.
The diabetes susceptibility gene clec16a regulates mitophagy.
Soleimanpour SA, Gupta A, Bakay M, Ferrari AM, Groff DN, Fadista J, Spruce LA, Kushner JA, Groop L, Seeholzer SH, Kaufman BA, Hakonarson H, Stoffers DA. – University of Pennsylvania, US; Lund University, Sweden; Children's Hospital of Philadelphia, US; Baylor College of Medicine, US.  [read]
Diabetologia, 2014 Jun 10.
AMPK phosphorylation of ACC2 is required for skeletal muscle fatty acid oxidation and insulin sensitivity in mice.
O'Neill HM, Lally JS, Galic S, Thomas M, Azizi PD, Fullerton MD, Smith BK, Pulinilkunnil T, Chen Z, Samaan MC, Jorgensen SB, Dyck JR, Holloway GP, Hawke TJ, van Denderen BJ, Kemp BE, Steinberg GR. – McMaster University, Canada.  [read]
---
Frank's blog – 日本からのご挨拶
That's right, my family and I are in Japan at the moment, one of my favourite places. I spent some time here a few years ago when I participated in the Shingo Tour, a life changing event.
This time around, we are here mainly to relax and celebrate my 50th birthday at Disneyland. (I've always thought that Mickey is a prime example of a humanised mouse…) We will also take the opportunity to give a few presentations regarding our new technology, goGermline.
---
Ozgene travel
To spread the news on goGermline and other exciting developments at Ozgene, we plan to be travelling around the world in the next few months attending conferences and meeting with clients. Here is our travel schedule:
September, Europe (incl. DGfI meeting, Bonn, Germany)
October, US (incl. Operational Excellence Conference, Utah)
December, New Zealand
If you would like us to visit you during one of these trips
---
Geneoz VMS news
Geneoz VMS algorithm for mouse husbandry, namely replenishing water and feed for the mice, was recently refined in the Ozgene Vivarium. This change has resulted in a significant increase in efficiency. Less staff are now needed for basic husbandry, which frees them up for more scientific tasks. Contact us to see how Geneoz VMS can make your Vivarium operate more efficiently.
---
More excitement on the way…
The World Cup is over, but we here at Ozgene have some more exciting news on the way. Keep your eyes peeled for our August Newsletter…
In the meantime, we are always happy to discuss your mouse mouse model requirements and provide an obligation free scientific assessment and quote for your project.