Cytoskeletal dynamics & metabolism
Cytoskeletal dynamics & metabolism
In this issue
Feature
Latest publications
Frank's blog
Ozgene webinars
Geneoz news
---
Cytoskeletal dynamics & metabolism
Discovering a lump or a bump on your body can be very concerning, as it may be the early sign of a tumor; particularly as malignant tumors are amid the most frequent causes of death in developed countries. A tumor is simply an overgrowth of cells and the cytoskeleton plays a factor in this. The cytoskeleton is involved in multiple biological processes that have direct links to cancer, including cell division, adhesion and motility, and metastasis.
Dr Antje Gohla and her team of researchers at the Rudolf Virchow Center for Experimental Biomedicine and the Institute of Pharmacology, University of Würzburg, Germany, are looking into the role and regulation of human phosphatases involved in cytoskeletal dynamics. By understanding cytoskeletal regulation, they hope to develop novel cancer treatment plans.
To date, Dr Gohla and her team have discovered and studied the role of novel cytoskeleton regulatory phosphatases. Two such phosphatases are Chronophin and aspartate-based, ubiquitous, Mg(2+)-dependent phosphatase, or AUM. These are part of an emerging class of enzymes known as HAD-type (haloacid dehalogenase) phosphatases. These have essential functions for transcription, cellular metabolism and cytoskeletal dynamics.
Dr Gohla's research aims to provide understanding of the regulation, as well as the physiological and pathological roles of Chronophin and AUM. Altered cytoskeletal dynamics play crucial roles in the pathogenesis of malignant tumors and even cardiovascular disease. Chronophin and AUM are known to be deregulated in some of these diseases.
The group conducts research involving biochemical approaches, as well as the use of cells, tissues, mouse models and patient biopsies. Conditional mouse models have been generated by Ozgene to investigate the consequences of Chronophin and AUM inactivation in vivo. Most recently, Ozgene generated a mouse model that allowed Dr Gohla's group to study the metabolic roles of phosphatases. This research has indicated that phosphatases have important implications for metabolic diseases.
For more information on Dr Gohla's research, visit the Würzburg university website.
For more information on Ozgene mouse models, please see Ozgene services.
---
Latest publications
J Clin Invest. 2015 Feb 2.
Cytosolic HMGB1 controls the cellular autophagy/apoptosis checkpoint during inflammation.
Zhu X, Messer JS, Wang Y, Lin F, Cham CM, Chang J, Billiar TR, Lotze MT, Boone DL, Chang EB. – University of Chicago, IL; Dana-Farber Cancer Institute, Boston, MA; University of Pittsburgh, PA, USA.  [read]
"We wanted to proceed quickly and did not have in house services to make KO's. Ozgene worked with us and were persistent in getting the work done. Most of the concepts regarding HMGB1 at the time were based on in vitro or non-physiological models. New findings in this mouse model suggest that these concepts have to be revisited. The mouse model has also opened up new avenues of investigation and discovery."
– Prof. Eugene B. Chang, University of Chicago, USA
J Immunol. 2015 Jan 14.
Monitoring and Cell-Specific Deletion of C5aR1 Using a Novel Floxed GFP-C5aR1 Reporter Knock-in Mouse.
Karsten CM, Laumonnier Y, Eurich B, Ender F, Bröker K, Roy S, Czabanska A, Vollbrandt T, Figge J, Köhl J. – University of Lübeck, Germany; Cincinnati Children's Hospital Medical Center, OH, USA.  [read]
---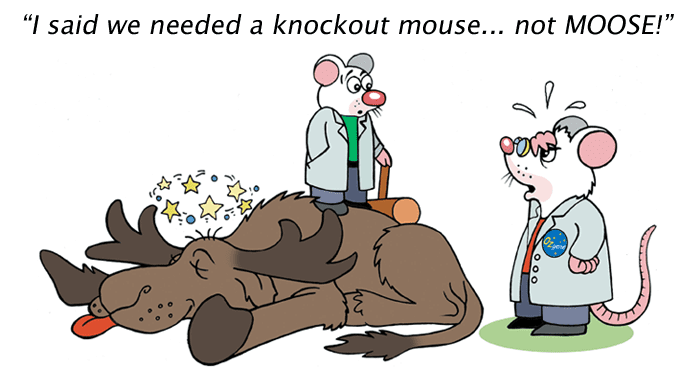 Frank's blog – Growing company by growing people
At the moment I'm travelling in the US and speaking at various events, which is something I enjoy doing. My talks focus on the Ozgene philosophy on growing and nurturing its most valuable resource; people. This has generated interesting discussion and feedback, which has inspired this blog on how applying Lean can grow the people within an organisation.
---
Ozgene webinars
Are you interested in the goGermline technology or the Lean management system at Ozgene? What are the latest improvements in our timelines and project notifications? Or are you simply just curious…? Contact us today to book your personal webinar, where we show you how Ozgene works and what it means for your project.
---
Geneoz news
Geneoz is transforming from a Vivarium Management Solution into a Laboratory Management Solution by the end of the year. Geneoz will still manage your animals in the Vivarium, but now it will also track all of the upstream processes from vector design and construction to ES cells, injections and genotyping. This will consolidate all project processes in one convenient software solution!