Obesity – the big and the small of it
Obesity – the big and the small of it
In this issue
Feature
Latest publications
Frank's blog
Zing conference
Timeline update
---
Obesity – the big and small of it
According to the WHO, worldwide obesity has more than doubled in the past 30 years and in 2014 alone, over 600 million adults over 18 years of age were obese. Currently, ~30% of the global population is overweight or obese. Obesity causes cardiovascular disease, diabetes, musculoskeletal disorders and increases the risk of many cancers.
Dr. Ian Willis at the Albert Einstein College of Medicine in New York and Dr. Nouria Hernandez at the University of Lausanne in Switzerland are at the forefront of obesity research. Their latest work on one tiny gene may help to overcome a huge, worldwide problem.
Working together, the two groups have identified a new mouse model of obesity resistance that results from a whole body knockout (KO) of the Maf1 gene. MAF1 is a repressor of gene transcription by RNA polymerase III, so its involvement in obesity and energy metabolism is not necessarily obvious. MAF1 is a master regulator of RNA polymerase III and controls the energy sapping synthesis of highly abundant non-coding RNAs (notably transfer RNAs) in response to nutrient availability and cellular stress. This links its function to metabolic economy.
Research shows that the absence of MAF1 results in mice that are metabolically inefficient. The metabolic inefficiency of Maf1 KO mice is achieved in novel ways that include increased futile cycling of tRNAs and hepatic lipids, increased polyamine synthesis and enhanced oxidative metabolism. These processes are implicated in the elevated energy expenditure and the lean phenotype of the mice.
The new study identifies MAF1 as a drug target for the treatment of obesity and obesity-related disorders. Since the whole body Maf1 KO mouse is viable, apparently healthy and has an increased lifespan, it is anticipated that drugs targeting MAF1 in humans are likely to be effective and well tolerated. This is potentially a giant step in the right direction to help fight the worldwide obesity epidemic.
For more information about the research of Dr. Willis and Dr. Hernandez, please visit the Albert Einstein College of Medicine website, the University of Lausanne website and see the publication below.
For more information on Ozgene mouse models, please see Ozgene services.
---
Latest publications
Genes Dev. 2015 May 1. – Featured
Loss of the RNA polymerase III repressor MAF1 confers obesity resistance.
Bonhoure N, Byrnes A, Moir RD, Hodroj W, Preitner F, Praz V, Marcelin G, Chua SC Jr, Martinez-Lopez N, Singh R, Moullan N, Auwerx J, Willemin G, Shah H, Hartil K, Vaitheesvaran B, Kurland I, Hernandez N, Willis IM. – Albert Einstein College of Medicine, USA; University of Lausanne & Swiss Institute of Bioinformatics & Ecole Polytechnique Fédérale de Lausanne (EPFL), Switzerland.  [read]
J Immunol. 2015 Jul 1.
Differential Tissue-Specific Function of Adora2b in Cardioprotection.
Seo SW, Koeppen M, Bonney S, Gobel M, Thayer M, Harter PN, Ravid K, Eltzschig HK, Mittelbronn M, Walker L, Eckle T. – University of Colorado Denver, USA; Kyung Hee University, Republic of Korea; Ludwig Maximilians University Munich, Germany; University of Frankfurt, Germany; Boston University School of Medicine, USA.  [read]
---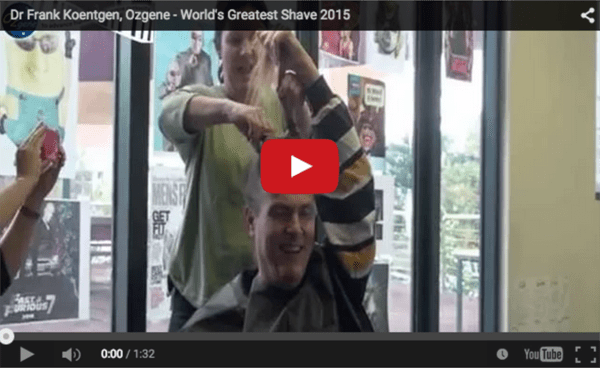 Frank's blog – To baldly advance humanity
Well, it's done! The hippie hair is gone and I am now sporting a new bald look just as I turn over another year. I think everyone enjoyed watching the process. As you can see in the video, I think Jacqui had the most fun as she got to do the honours. Best of all, I managed to raise over $10,000 for the Leukaemia Foundation. What a great way to help advance humanity!
---
Are you going to the Genomic Integrity Conference in Cairns?
Ozgene CEO, Dr Frank Koentgen, and CSO, Dr Gabi Suess will be atteding the Zing conference on "Genomic Integrity" in Cairns, Australia, 1-5 August 2015. Meet with them to chat about Lean culture, F1 tyre changes, Frank's new haircut, and anything in between. Contact us to arrange a time.
---