New approaches for treating Colon Cancer
New approaches for treating Colon Cancer
In this issue
Feature
Latest publications
Frank's blog
Ozgene travel
Timeline update
---
New approaches for treating Colon Cancer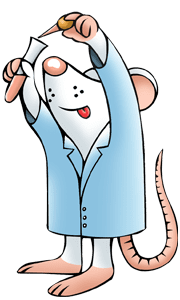 Colon cancer; now that's a diagnosis that no one wants to hear and yet 15,000 families in Australia are affected by this disease each year. However, it's great to know that entire research labs around the world are dedicated to finding treatments and cures for this disease. This month, we are featuring one particular lab right here in our own backyard. The Oncogenic Transcription Lab at the Olivia Newton-John Cancer Research Institute in Melbourne is led by Professor John Mariadason, and specifically focuses on colon cancer and other gastrointestinal malignancies.
The group has three main research interests: First, Prof Mariadason's team investigates how epigenetic regulatory proteins such as histone deacetylases (HDACs) and bromodomain-containing proteins regulate colon cancer cell growth and survival. Second, they are investigating how differentiation can be re-induced in colon cancer cells, and have identified key transcription factors which drive this process. Lastly, they have an active translational research program that focuses on discovering biomarkers predictive of response to targeted therapeutics used in the treatment in gastrointestinal cancers, including anti-angiogenic drugs, BRAF inhibitors and mTOR inhibitors.
Through their research Prof Mariadason and his team are striving to provide hope to the 15,000 families in Australia affected with this disease and the many thousands more around the world.
The group uses genetically modified mouse models, one of which was generated by Ozgene in 37 weeks. Further improvements in processes have seen Ozgene's projects being completed within 27 weeks, ever striving to get the mouse models to the researcher sooner.
For more information on Prof. Mariadason's research, visit the Olivia Newton-John Cancer Research Institute website.
For more information on Ozgene mouse models, please see Ozgene services.
---
Latest publications
Biochem Biophys Res Commun. 2015 Aug 21.
MAR binding protein SMAR1 favors IL-10 mediated regulatory T cell function in acute colitis.
Mirlekar B, Patil S, Bopanna R, Chattopadhyay S. – National Centre for Cell Science, Pune, India.  [read]
Diabetologia. 2015 Aug 1.
The diabetes gene Zfp69 modulates hepatic insulin sensitivity in mice.
Chung B, Stadion M, Schulz N, Jain D, Scherneck S, Joost HG, Schürmann A. – German Institute of Human Nutrition Potsdam-Rebruecke, Nuthetal, Germany.  [read]
Cell Rep. 2015 Jul 28.
Systemic Akt1 Deletion after Tumor Onset in p53(-/-) Mice Increases Lifespan and Regresses Thymic Lymphoma Emulating p53 Restoration.
Yu WN, Nogueira V, Sobhakumari A, Patra KC, Bhaskar PT, Hay N. – University of Illinois at Chicago & Jesse Brown VA Medical Center, Chicago, IL, USA.  [read]
---
Frank's blog – The Big History Project
Have you heard of the Big History Project? No? Well, prepare to be enlightened then. Recently, I was introduced to this project and have since been fascinated with it. For this blog post, I'd like to introduce you all to the Big History Project. Then, once you've had a chance to explore it further on your own, I'll follow up next month with how I see it applying to Ozgene.
---
Ozgene on the move
Amsterdam 3-4 Sept, meet John, Frank & Eddie
Israel 6-10 Sept, meet Frank & Eddie
New York area 14-18 Sept, meet Roger
Dr Frank Koentgen – CEO, Eddie Noonan – Business Development Manager, John Dixon – Principal Scientist (Europe), Dr Roger Askew – Principal Scientist (North America).
To arrange a meeting in these locations
---