Breathing easy
Breathing easy
In this issue
Feature
Frank's blog
Latest publications
Ozgene travel
Timeline update
---
Breathing easy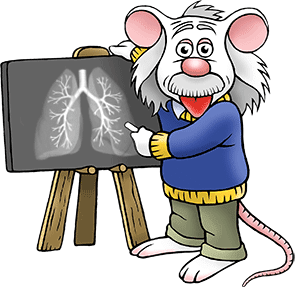 The respiratory system has effective and complex defence mechanisms to protect itself against infections. These mechanisms can, however, be compromised in disease. Dr. Jay Kolls and his team at the Richard King Mellon Foundation Institute for Paediatric Research in Pittsburgh, PA, USA strive to understand normal lung defence mechanisms, how disease affects them, and how this knowledge could lead to improved treatment or prevention of lung infections.
Through his research studies, Dr. Kolls investigates mechanisms of lung host defences in normal and immunocompromised hosts. The Kolls Lab focuses on pneumocystis studies, Th-17 studies and vitamin influence in mitigating respiratory disease. Dr. Kolls also conducts research into new treatments of pneumonia, asthma and allergic bronchopulmonary disease in children with cystic fibrosis.
Recently, Dr. Kolls has been investigating how IL-23 and IL-17 regulate neutrophil recruitment in response to infectious stimuli in the lung. One of his studies has been recently accepted for publication in Immunity and utilises Il17rafl/fl and Il17rcfl/fl floxed mice generated by Ozgene. This study looked at how commensal bacteria, specifically segmented filamentous bacteria (SFB) in the gastrointestinal tract drives Th17 cell development and how epithelial IL-17RA/IL-17RC signaling regulate this response. In addition, IL-17 and IL-17 receptor (IL-17RA/RC) signalling are crucial for regulating mucosal defence against several invading pathogens.
The paper shows that SFB colonization induces Th17 cells. Interestingly, Th17 cells expanded and contracted proportionately with the SFB burden. When IL-17R signalling was disrupted in enteric epithelium, SFB dysbiosis occurred due to reduced expression of -defensins, Pigr and Nox1. Induction of experimental autoimmune encephalomyelitis caused earlier disease onset and a more severe disease in conditional Il17ra/Il17rc mice, which was associated with increased gut Csf expression and elevated systemic GM-CSF levels. The conditional deletion of IL-17R in enteric epithelium demonstrated that there is a relationship between gut microbiota and enteric IL-17R signalling that controls dysbiosis, constrains Th17 development, and regulates the susceptibility to autoimmune inflammation.
Please find the scientific publication on this study below in the publications section.
For more information on Ozgene mouse models, please see Ozgene services.
---

Frank's blog – Eureka moment published
This is one of those times when it's great to be a scientist! To see your 'Eureka moment' published is a wonderful feeling. This would not have been possible without the Ozgene team and Prof. Peter Mombaerts and his team at the Max Planck Research Unit for Neurogenetics. Thank you. Arthur Schopenhauer's quote "All truth passes through three stages. First, it is ridiculed. Second, it is violently opposed. Third, it is accepted as being self-evident." often rings true in science…
---
Latest publications
FEATURED – Immunity. 2016 Mar 15.
Intestinal Interleukin-17 Receptor Signaling Mediates Reciprocal Control of the Gut Microbiota and Autoimmune Inflammation.
Kumar P, Monin L, Castillo P, Elsegeiny W, Horne W, Eddens T, Vikram A, Good M, Schoenborn AA, Bibby K, Montelaro RC, Metzger DW, Gulati AS, Kolls JK. – University of Pittsburgh, PA; University of North Carolina at Chapel Hill, NC; Albany Medical College, NY, USA.   [read]
Neuroscience. 2016 May 13.
Dexras1 a unique ras-GTPase interacts with NMDA receptor activity and provides a novel dissociation between anxiety, working memory and sensory gating.
Carlson GC, Lin RE, Chen Y, Brookshire BR, White RS, Lucki I, Siegel SJ, Kim SF. – The Perlman School of Medicine at the University of Pennsylvania, Translational Research Building, Philadelphia, PA, USA.   [read]
PLoS Genet. 2016 Mar 15.
A Jacob/Nsmf Gene Knockout Results in Hippocampal Dysplasia and Impaired BDNF Signaling in Dendritogenesis.
Spilker C, Nullmeier S, Grochowska KM, Schumacher A, Butnaru I, Macharadze T, Gomes GM, Yuanxiang P, Bayraktar G, Rodenstein C, Geiseler C, Kolodziej A, Lopez-Rojas J, Montag D, Angenstein F, Bär J, D'Hanis W, Roskoden T, Mikhaylova M, Budinger E, Ohl FW, Stork O, Zenclussen AC, Karpova A, Schwegler H, Kreutz MR. – Leibniz Institute for Neurobiology; Otto-von-Guericke University; Deutsches Zentrum für Neurodegenerative Erkrankungen (DZNE); Center for Molecular Neurobiology Hamburg (ZMNH), Germany.   [read]
Nat Commun. 2016 Mar 14.
Stabilin-2 modulates the efficiency of myoblast fusion during myogenic differentiation and muscle regeneration.
Park SY, Yun Y, Lim JS, Kim MJ, Kim SY, Kim JE, Kim IS. – Dongguk University, Gyeongju; Kyungpook National University, Daegu; Asan Medical Center, Seoul; Korea Institute Science and Technology, Seoul; Korea University, Seoul, Republic of Korea.   [read]
---
Ozgene travel
Our CEO, Dr Frank Koentgen, is travelling this month to visit some of our clients in the USA. He will also attend the Shingo International Conference in Washington DC, 25-29 April, followed by a few days in Europe in the first week of May. If you would like to meet with Frank, please let us know!
---