NO to Exercise?
NO to Exercise?
In this issue
Feature
Latest publications
Frank's blog
Shingo Conference
Timeline update
---
NO to Exercise?
Exercise is good for you. Who hasn't heard that one before? We know about the benefits of exercise involving weight control, health, mood and energy levels. But is there a genetic aspect that helps exercise reduce the chances of developing certain diseases?
Justin M. Percival, PhD, is an Assistant Professor of Molecular and Cellular Pharmacology at the University of Miami. His research focuses on skeletal muscle nitric oxide (NO) to determine if it enables skeletal muscle to communicate with other organs, and if this communication mediates some of the systemic benefits of exercise. NO is a biomarker of healthy skeletal muscle and NO signalling is known to be important in the cardiovascular, immune and central nervous systems. Healthy skeletal muscles express more neuronal NO synthase (nNOS) whereas unhealthy muscles have less nNOS or defective NO signalling.
Traditionally it has been understood that NO signalling is primarily diffusion limited, in other words, NO gas diffuses randomly to target down a diffusion gradient. Prof. Percival has discovered that skeletal muscle expresses a second neuronal NO synthase (nNOS) called nNOSβ at the Golgi apparatus. Two nNOS enzymes, nNOSµ and nNOSβ, are required for peak muscle performance. They are localised close to each other in muscle, each with a separate function, which is not possible if NO diffuses freely.
Prof. Percival seeks to understand the diverse functions of nNOS splice variant signaling in skeletal muscle using mouse models of muscular dystrophy, obesity and diabetes. He aims to translate his findings into potential therapies for neuromuscular and metabolic diseases. Prof. Percival was part of a team who successfully used sildenafil to increase nNOS signaling and reduce skeletal and cardiac muscle dysfunction in the mdx mouse model of Duchenne muscular dystrophy (DMD). DMD is a genetic disease characterised by muscle weakness and wasting, which leads to respiratory or cardiac failure in people by 30 years of age.
For more information on Prof. Percival's research, please visit his Researchgate website.
For more information on Ozgene mouse models, please see Ozgene services.
---
Latest publications
J Immunol. 2017 Mar 15.
The Inflammatory Bowel Disease-Associated Autophagy Gene Atg16L1T300A Acts as a Dominant Negative Variant in Mice.
Gao P, Liu H1, Huang H, Zhang Q, Strober W, Zhang F. – Chinese Academy of Sciences and University of Chinese Academy of Sciences, Beijing, China. National Institute of Allergy and Infectious Diseases, National Institutes of Health, Bethesda, MD, USA. [read]
J Virol. 2017 Mar 8.
Oral prion disease pathogenesis is impeded in the specific absence of CXCR5-expressing dendritic cells.
Bradford BM, Reizis B, Mabbott NA. – University of Edinburgh, United Kingdom. New York University Langone Medical Center, NY, USA. [read]
Proc Natl Acad Sci U S A. 2017 Jan 31.
α-Synuclein binds and sequesters PIKE-L into Lewy bodies, triggering dopaminergic cell death via AMPK hyperactivation.
Kang SS, Zhang Z, Liu X, Manfredsson FP, He L, Iuvone PM, Cao X, Sun YE, Jin L, Ye K. – Emory University School of Medicine, Atlanta; Michigan State University, Grand Rapids, USA. Huazhong University of Science and Technology, Wuhan; Tongji Hospital, Shanghai; Tongji University School of Medicine, Shanghai, China. [read]
---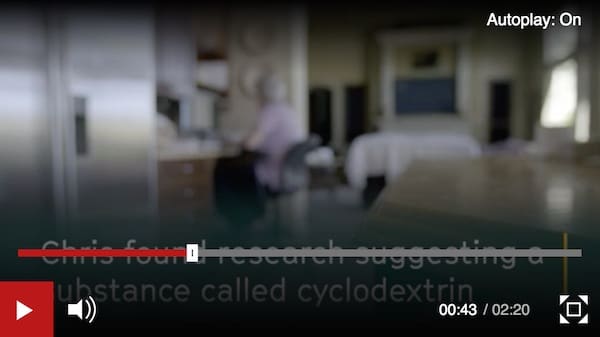 Frank's blog: Good news
This month I'd like to share some good news from the Hempel family, whose daughters suffer from a severe genetic cholesterol condition called Niemann-Pick Type C. It causes cholesterol to build up in cells to toxic levels and is often referred to as childhood Alzheimer's.
---

Shingo Conference in Atlanta, Georgia, 24-28 April 2017
The Shingo International Conference is all about organizational improvement beginning with an organization's culture and leading to desired results. Join other leaders to hear from professionals who've turned organizations around. They'll share details of the steps they took to success. Find the right combination of culture, systems and tools to improve your results. Attend this conference to change the way you think about continuous improvement.
---