Epigenetics and the brain
Epigenetics and the brain
In this issue
Feature
Australian Spring Special
Latest publications
Frank's blog
Timeline update  
---
Epigenetics and the brain

Psychiatric conditions are often caused by a combination of genetic and environmental factors. Epigenetic mechanisms serve as a 'molecular bridge' between the two and are associated with a range of neuropsychiatric phenomena. Epigenetics refer to stable changes in gene expression that are mediated by altered chromatin structure. The organisation of chromatin plays a role in controlling the expression of specific genes in all tissues, including brain.
Prof. Schahram Akbarian, MD, PhD is the head of the Akbarian Laboratory of Epigenetic Regulation of the Human Brain at Icahn School of Medicine at Mount Sinai in New York, NY, USA. His team explores epigenetic regulation of gene expression with the aim to identify epigenetic drug targets and new treatment opportunities for psychiatric disease. Prof. Akbarian's research is focused on epigenetic factors of normal and diseased human brain development, which have implications for the neurobiology of many psychiatric conditions including schizophrenia, autism and depression. The work by the Akbarian laboratory involves clinical studies on genome organisation in specific brain cell types. These studies are complemented by preclinical research in cell cultures and animal models with mutations in proteins regulating chromatin and chromosomal architectures.
In their latest Nature Genetics paper (Jiang et al. Nat Genet. 2017 Aug;49(8):1239-1250) the team investigates the effects of neuronal ablation of Setdb1 (SET domain, bifurcated 1) utilising a mouse model generated by Ozgene. Setdb1 is important for prenatal development. It is known to regulate retroelement suppression and transcriptional silencing in stem cells, however, little is known about its functions in differentiated cells, including neurons. Prof. Akbarian and his team found that methyltransferase SETDB1 regulates a large neuron-specific topological chromatin domain. They identified a SETDB1-dependent 'shield' that protects genomes from excessive CTCF (CCCTC-binding factor) binding. Loss of this shield reveals locus-specific epigenomic vulnerabilities that cause chromatin collapse on a megabase scale with possible implications for the neurobiology of psychiatric conditions.
For more information on the Prof. Akbarian's research, read the publication below and visit the Akbarian Laboratory website.
For information on Ozgene mouse models, visit Ozgene services.
---
Australian Spring Special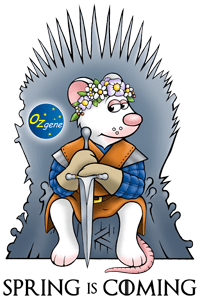 Winter may be coming in the Northern Hemisphere but it is spring time in Australia! We are offering a 10% saving on knockout and knock-in mouse projects until the end of November 2017 (conditions apply). All of our projects use our ISTT 3Rs award-winning goGermline technology which enables us to routinely deliver gene targeted mice with the shortest timelines in the industry while improving animal welfare. Contact us today for a confidential discussion on your project requirements.
---
Latest publications
FEATURED – Nat Genet. 2017 Aug.
The methyltransferase SETDB1 regulates a large neuron-specific topological chromatin domain.
Jiang Y, Loh YE, Rajarajan P, Hirayama T, Liao W, Kassim BS, Javidfar B, Hartley BJ, Kleofas L, Park RB, Labonte B, Ho SM, Chandrasekaran S, Do C, Ramirez BR, Peter CJ, C W JT, Safaie BM, Morishita H, Roussos P, Nestler EJ, Schaefer A, Tycko B, Brennand KJ, Yagi T, Shen L, Akbarian S. – Icahn School of Medicine at Mount Sinai; New York Genome Center; Columbia University; James J. Peters Virginia Medical Center, New York, USA. Graduate School of Frontier Biosciences, Osaka University, Suita, Japan. [read]
Immunity. 2017 Aug 15.
Nlrp6- and ASC-Dependent Inflammasomes Do Not Shape the Commensal Gut Microbiota Composition.
Mamantopoulos M, Ronchi F, Van Hauwermeiren F, Vieira-Silva S, Yilmaz B, Martens L, Saeys Y, Drexler SK, Yazdi AS, Raes Jm, Lamkanfi M, McCoy KD, Wullaert A. – Ghent University; Rega Institute, Leuven; VIB-UGent Center for Inflammation Research; VIB-KU Leuven Center for Microbiology, VIB, Belgium. University of Bern; University of Basel; University of Bern, Switzerland. University of Tübingen, Germany. University of Calgary, AB, Canada. [read]
J Cancer. 2017 Jul 15.
Loss of Complement Factor H in Plasma Increases Endothelial Cell Migration.
Liu J, Hoh J. – Shandong University, Jinan, China. Yale University, New Haven, CT, USA. [read]
---

On the road again
Frank's blog – It doesn't seem very long since my previous trip but I find myself on the road again. Perth is the most isolated capital city in the world so once you leave for your trip, might as well make the most of it. I am visiting several continents with three main agendas: clients, goGermline, and Lean.
---